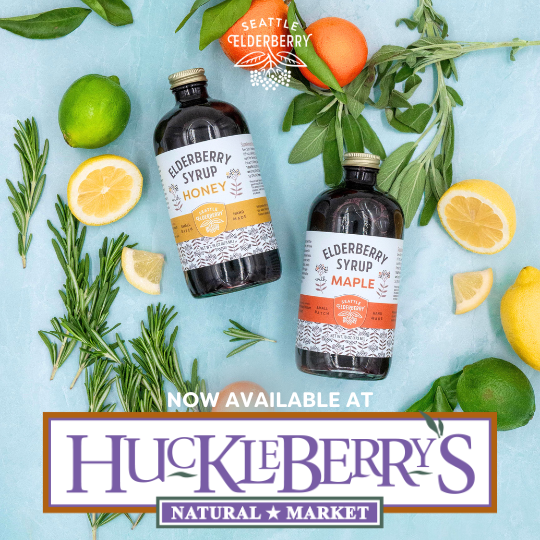 New Retailer: Huckleberry's Natural Market in Spokane, WA
New Retailer: Huckleberry's Natural Market
Seattle Elderberry is excited to announce its latest product offerings at Huckleberry's Natural Market in Spokane, WA. With a commitment to providing premium health products, Seattle Elderberry is proud to unveil its new line of USDA Organic Elderberry Syrup, Elderberry Gummies, DIY Kits, and Allergy Defense products.
Elderberry is a well-known superfood known for its immune-boosting properties. All Seattle Elderberry products are made using the highest-quality elderberries, ensuring that customers get the maximum benefits and nutrients this superfood offers.
What sets Seattle Elderberry's products apart is their commitment to using only organic ingredients. This guarantees that there are no harmful pesticides or chemicals present in any of their products, making them safe for all ages.
Huckleberry's Natural Market is known for being a hub of natural and organic products, making it the perfect place for Seattle Elderberry to showcase their products. Customers can expect to find Seattle Elderberry's complete collection of such products in the store.
Seattle Elderberry's top seller, Organic Elderberry Syrup is available in two varieties at the Spokane, WA shop. The DIY Kits provide a unique opportunity for customers to make their own Elderberry syrup at home and customize it according to their taste preferences. This DIY kit is an excellent gift for health-conscious friends and family members.
The Allergy Defense range is new to Seattle Elderberry's product line. It is the perfect addition for customers who suffer from seasonal allergies and are looking for a natural solution. It is made up of a proprietary blend of elderberry, elderflower and nettle to strengthen the immune system and ward off allergies.
"We are thrilled to extend our reach and offer our products at Huckleberry's Natural Market," said Seattle Elderberry's founder, Holly Cooper. 
"Our USDA Organic Elderberry products provide customers with a natural way to support their health and wellness. We are excited to bring these products to the Spokane community and beyond!"
Seattle Elderberry's latest product offerings at Huckleberry's Natural Market are a testament to the company's commitment to quality, healthy products. It is an excellent opportunity to try out different elderberry products that can benefit overall human health.
Visit Huckleberry's Natural Market at 926 S Monroe St, Spokane, WA 99204
Experience Seattle Elderberry's latest product offerings and take a step towards a healthier you!